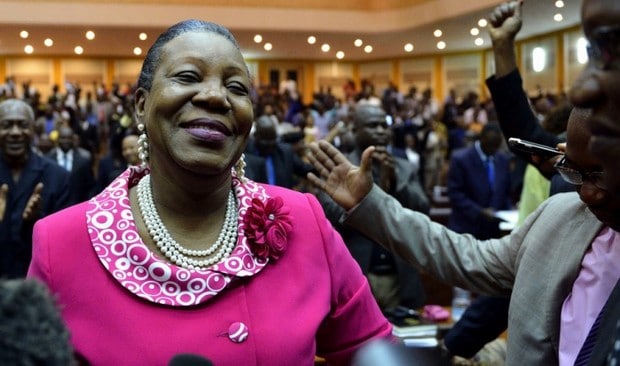 The Pan-African magazine, Jeune Afrique, published on its web site the list of the 50 most influential women of Africa. While specifying that this list is subjective, the magazine noted a remarkable progress of the women on the African continent.
Just like in the recent ranking by the portal Africa Top Success, the Beninese singer, Angelique Kidjo, the Angolan businesswoman, Isabel Dos Santos, the Kenyan actress, Lupita Nyong'o and the general prosecutor at the International Criminal Court (ICC), Fatou Bensouda, appear in the Top 50 published by Jeune Afrique Magazine.
Political personalities are also noted in the list as the vice-president of the Republic of Malawi, Joyce Banda, the president of Liberia, Ellen Johnson-Sirleaf and Catherine Samba-Panza from the Central Republic of Africa.
Top 50 influential women of Africa (Jeune Afrique Magazine)
– Burkina Faso: Joséphine Ouédraogo, let there be light…
– Mozambique: Graça Machel, former First Lady and Queen of chastity
– Egypt: Lamees al-Hadidi, combat journalist
– Senegal: Aïssa Dione, specialized fashion designer «local»
– Cameroon: Élise Atangana, Christine Eyene and Koyo Kouoh… promoting the contemporary art
– Ivory Coast: Kaba Nialé, a woman at the head of the economy
– Morocco: Mbarka Bouaida, diplomatic asset
– Benin: Angélique Kidjo, committed diva
– Senegal: Evelyne Tall, Nr 2 for Ecobank
– Sudan: Hadeel Ibrahim, at the head of the foundation of the father
– ICC – Gambia: Fatou Bensouda, general procecutor
– Botswana: Linah Mohohlo, at the heart of the Central Bank
– Morocco: Fatiha Mejjati, the Black widow of the jihad
– Tunisia: Safia Hachicha, in the high range of the finance
– Senegal: Adama Ndiaye, papess of the Black Fashion Week
– Mauritania: Fatimata Mbaye, undestroyable
– Senegal: Germaine Acogny, queen of the choreography
– Cameroon: Odile Lacoin, adviser for investors
– Nigeria: Ngozi Okonjo-Iweala, an iron hand in the Finances
– Angola: Titica, singer and icon of transgenres
– South Africa: Winnie Mandela, for the best and the worst
– South Africa: Thuli Madonsela, Mrs. Anticorruption
– Morocco: Saïda Karim Lamrani, business icon
– Tunisia: Wided Bouchamaoui, boss of the bosses
– Louise Mushikiwabo, herald for Rwanda of Paul Kagamé
– Niger – unci: Aïchatou Mindaoudou, peace keeper
– Kenya: Jacqueline Mugo, leader for the African managers
– DRC: Jeannine Mabunda, by the sides of Kabila against sexual violence
– Kenya: Ory Okolloh, in the avant-garde of the new technologies
– Tanzania: Genevieve Sangudi, the African visage of the Carlyle Group
– Nigeria: Chimamanda Ngozi Adichie, writer translated in 25 languages
– Morocco: Nawal El Moutawakel, right down on the Olympic Games of Rio!
– Benin: Reckya Madougou, pasionaria of the social economy
– Miriem Bensalah Chaqroun, promoter of the Moroccan companies
– UA – South Africa: Nkosazana Dlamini-Zuma, president one day…
– Cameroon: Alice Nkom, the defence of the minorities
– Rwanda: Valentine Rugwabiza, at the WTO for the East-African integration
– Tunisia: Selma Elloumi Rekik, business and politics
– Morocco: Ghislane Guedira, finance and phosphates
– Tunisia: Amira Yahyaoui, the revolution is still on!
– Tunisia: Basma Khalfaoui, in the memory of Chokri Belaïd
– Mali: Rokia Traoré, activist singer
– Ivory Coast: Martine Coffi-Studer, builder of the African economy
– Sierra Leone: Josephine Finda Sellu, sharp nurse against Ebola
– Kenya: Lupita Nyong'o, Oscar-winning actress
– Angola: Isabel dos Santos, businesswoman and «daugther of»
– Morocco: Touria El Glaoui, founder of the 1:54 fair
– Algeria: Hadda Hazem, «Al-Fadjr» and freedom of expression
Original text by: Roger ADZAFO
Articles similaires