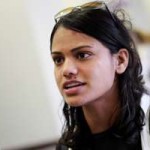 Jessica Colaço is partnerships guiding at iHub in Kenya. She attended at Austin in Texas to South by South West (SxSW) world-famous festival dedicated to digital innovation.
She is convinced that mobile is going to change everything in Africa. She said it to «Jeune Afrique magazine»: « Our main asset is our human resources and our youth. Young Africans are getting trained to acquire skills in order to compete with the world. Another important asset is our intensive use of mobile phone. »
Africa is a continent of 54 countries. Each one is different; each one has its own problems but also its solutions and its own technological conditions.
She still believes a lot in « mobile banking »: « In Kenya and in east Africa actually, « m-banking » is very developed. The term includes two different realities: virtual currency and the use of mobile phone to make financial transactions. Many portfolios and virtual currencies recently appeared and allow to buy more easily. In Kenya, they are moreover more and more used. The currency Bitcoin is rapidly growing. There is no regulation and it facilitates transactions. We are really moving towards a world without cash. »
And she thinks that her country is really well placed: « Nairobi, the capital city, is becoming the major technological hub in east Africa and certainly in all sub-Saharan Africa. There are great deals of activities around information and communication technologies (ICTS). »
There are already African Steve Jobs! They keep a low profile and they are not unfortunately very visible. But obviously, the next Steve Jobs will be African. And I think that he will appear in domains combined with engineering and sciences of information. »
Related Posts via Categories