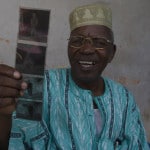 He was nicknamed « the eye of Bamako ». He is one of the African famous photographer in Africa.
Malick Sidibé was born in 1936 in Soloba, district of Yanfolila, Mali.
He followed drawing and jeweler studies at the Sudanese craftsmen school (that has become national Institute of arts of Bamako) in Bamako. Nothing predestined him to this domain, as matter of fact, he became a photographer.
It was in 1955 when he discovered photographer's business by entering the studio « Photo service » of Gérard Guillat-Guignard who introduced him to this art. He remembered: « in my village, colonial commanding officer found draftsman's talent in me. He wanted to help me financially so that I go to the arts school "écoles des Beaux-Arts" in Paris. Finally in 1952, the fate brought me in Bamako to the "INA" (formerly called the Sudanese craftsmen school). When a Frenchman came to open his photo studio in Bamako, he asked our school (INA) to provide him an artistt to decorate his studio. This was the way I became the first employee of the man whom we nickname « Gégé la pellicule » in 1955. I was first of all a cashier in this shop of the city center: photo service".
In 1956 with the income of his first pictures, Malick bought himself his first device, a Brownie Flash. He launched into photography and he specialized himself in the evening reports and passport photographs.
In 1962, he opened his studio in Bamako in the district to which he always remained faithful.
His studio carried his name. The studio Malick is situated in the 19th off the street 30. It quickly became fashionable place. « The studio, most of the times, worked during celebrating days. I could stand up three hours in front of the tripod. I had my son who used to be at the door for receptions, writing names, all this until very late the night. The studios of district remained open till a given time in the night, because there are many clients in the evening. There were at that time two types of dancers: the "Zazous" (hepcats), well-to-do, often from state employees families, who ordered their costumes at Saint Germain des-Prés, and the "Yéyés" (pop), less rich, without protocol, danced in local dances we called « dust dancing ». I had the privilege to photograph people in movement, who did not pay noticed me. I have never danced, but these young people breathed life and made me forget me my worries. »
The first African photography meetings held in Bamako in 1994 helped Malick Sidibé to increase his reputation. He then started displaying in galleries in Europe (as Fondation Cartier in Paris), in the United States and in Japan.
He travels a lot today but refused to leave Mali. "Ah no! I always like to stay in Bamako as I have so many links there. Even if I have been away for ten days, I always feel home sickness."
He also enjoys training future artists: « My studio is at the same time my school. Anybody can ask me and I will explain it to him. My children and nephews work with me in the studio and they learned by my sides. Some stayed working with me in my studio. Some others went to open their own studios."
In fact, what does he think of digital? "I less appreciate digital devices. We can make fake from them and this worries much."
A photographer with a full deep authentic look!
Awards and distinctions
– In 2003, Malick Sidibé was rewarded Hasselblad photography prize. He was the first African to receive this prize.
– On June 10th, 2007, he) received a « Lion d'or" (Golden lion) of honor for the whole of his career on the occasion of the 52nd Biennial event of contemporary art of Venice.
– On June 23rd, 2009, Malick Sidibé won the prize PhotoEspaña Baume and Mercier 2009 for his work of portrait painter. The same year, he won the World Press Photo in the category of Arts and Entertainment.
[youtube]http://www.youtube.com/watch?v=lGTYRMkME6Y[/youtube] [youtube]http://www.youtube.com/watch?v=tTcM9SPuOVw[/youtube]
Articles similaires