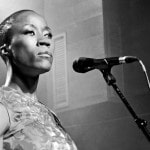 Rokia Traoré was one of the tops of the bill for the 25th Africolor festival which took place until December, 22nd in 20 cities of Ile-de-France – More information on the www.africolor.com-
She was born on January 24th, 1974 in Bamako; she is native of « Bélédougou" region. She is the girl of a diplomat and as a result, she travelled a lot in her youth: Algeria, Saudi Arabia, and France.
She studied in Brussels. She thought of becoming a journalist and she finally chose music, having begun a radio presenter career: « I really had no objective, especially as I arrived without any pretentiousness, just the pleasure of making music and to try things which I imagined. I thought of becoming a journalist and of writing on music. I did not know that I would have the opportunity to be a musician one day, and that I could, moreover, be a musician. I did not think of having a good voice, even if I composed many songs and if I wrote texts. I thought of giving them to a musician one day. (…) Listeners regularly called and the manager told me: « I should hire you as a singer rather than a presenter » because people were calling to say that they liked my voice. And they began telling me: « You should sing » and at that time, I had my guitar, thus I played and I made songs at home. And then at a given time, I joined a group of rap and we made a clip – it was the first group of Malian rap – I was 19 years old and I found myself at that moment with the possibility of making my first album »
Her music is a mixture of style which involves Malian tradition and western modernism.
Her musicians use traditional instruments: balafon, n'goni, karignan, djembe.
Rokia was known in 1997 during a concert of half-blood music festival of Angoulême.
In 2001, she got noticed with her song: « what would I be tomorrow? » as a member of the feminine collective "The Voices of hope" created by Princess-Erika.
Big fan of Billie Holiday, Rokia Traoré participated in 2005, in the United States, in the show « Billie and Me » dedicated to the life of the legendary singer.
In 2009, she won a victory of music in the category « musics of the world » for her album Tchamantché.
Having lived for a long time in Amiens, she came to live in Bamako too.
A few months ago, she declared her opinion about African music on "RFI music": « African music is not recognized as it deserves. The best of this art and this culture is in Europe. On one hand, it does not move in Africa, on the other, what is in Europe is not valorized. Wars, famines interest much more the media and I think it also interests more the general public and we do not take the risk of frustrating and of losing customers. Thus, we present them what they want and here we are. (…) There is a lack of will from African leaders in order to valorize art and culture and to respect people who are in these businesses, to stop seeing us as clowns. We are not there to clown around and the role of artists for Africa and its development is very important. Abroad, positive image of Africa is shown essentially through art and African culture. And it is important today that they recognize us that in giving more space and means to artists in their countries »
Rokia Traoré has big projects for her Continent, she who sings:
« I dream about Africa: » « my dream, it is all that I am doing. My dream, it is also the reality that makes me so much good, which for me is of dream matter. (…) I realize that there is an enormous potential that it is worth catching on! (…) I have something to give to my country, to Africa. I realize it is our responsibility towards young people who dream of becoming what we are ».
It is indeed for that reason she created in 2009 in Bamako, the foundation "Passerelle" with the aim of supporting the process of organization and development of the economy of music and art performing in Mali.
We shall keep in mind an extract of one of her songs: « in my veins of Afro-progressist, Bambara blood full of hope is burning ».
[youtube]http://www.youtube.com/watch?v=NS0qioPXjeE[/youtube] [youtube]http://www.youtube.com/watch?v=vshD7FLuVpI[/youtube] [youtube]http://www.youtube.com/watch?v=l28slgZyhmU[/youtube]
Articles similaires