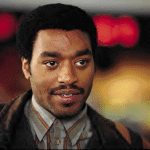 He is currently making success with Lupita Nyong'o in « 12 Years a Slave », a movie inspired by a true story on slavery which was praised by criticisms.
The movie told Solomon Northup's memoirs – played by the young Black and free English -Nigerian man Chiwetel Ejiofor-, musician of the State of New York, who was kidnapped in 1841. He then worked during twelve years as slave in a cotton plantation in Louisiana.
Lupita Nyong'o played the role of Patsey. She was sublime as well as touching.
The movie already won, in September, People Choice Award, awarded by the public of the International Movie Festival of Toronto. About this movie, he said: « It marked me so that today, I can feel it again. It is something; it is the story that told about to what extent it is difficult to break the spirit of a man, about the strong will that Man can have. »
Chiwetel Ejiofor was born on July 10th, 1977 in Forest Gate, England. He is the son of a doctor and a pharmacist, both Nigerians. From the age of 13 years, he took passion for comedy. Teenager he was, he embodied Jules Cesar and Othello during the National Youth Theatre before joining London Academy of Music and Dramatic Art. In 1997, Steven Spielberg gave him translator's role in Amistad. He thus first appeared in cinema. He moved on in 2000 with a comedy thriller with Thandie Newton and he presented at the same time as the theater plays. He got noticed in particular in « Romeo and Juliette » by Peer Gynt.
In 2002, after Steven Spielberg, Stephen Frears made him known worldwide in Dirty Pretty Things. He played the role of Okwe, an illegal immigrant working as taxi in daytime and as receptionist in the night.
Having played a drag queen in « Kinky boots », Woody Allen offered him the role of an elegant pianist in « Melinda and Melinda » in 2004. He was also directed twice by Spike Lee: « She hastens » then « Inside Man. »
He got opportunity to play with Angelina Jolie in Salt (2010), an action and spy movie by Jason Bourne.
Cinema
1997 : Amistad : Ens. Covey
1999 : Greenwich Mean Time (G:MT Greenwich Mean Time) : Rix
2000 : It Was an Accident : Nicky Burkett
2001 : My Friend Soweto : Soweto
2002 : Dirty Pretty Things : Okwe
2003 : 3 Blind Mice : Mark Hayward
2003 : Love Actually : Peter
2004 : She Hate Me : Frank Wills
2004 : Red Dust : Alex Mpondo
2004 : Melinda and Melinda : Ellis
2005 : Four Brothers : Victor Sweet
2005 : Serenity : The Operative
2005 : Slow Burn : Trippin
2005 : Kinky Boots : Lola
2006 : Inside Man : Detective Bill Mitchell
2006 : Children of Men : Luke
2007 : Talk to me : Dewey Hughes
2007 : American Gangster : Huey Lucas
2008 : Redbelt
2009 : 2012 : Adrian Helmsley
2010 : Endgame by Pete Travis : Thabo Mbeki
2010 : Salt by Phillip Noyce : Peabody
2013 : Twelve Years a Slave by Steve McQueen : Solomon Northup
Television
1996 : Deadly Voyage : Ebow
2001 : Mind Games : Tyler Arnold
2003 : Trust : Ashley Carter
2003 : Twelfth Night, or What You Will : Orsino
2006 : Tsunami: The Aftermatch by Bharat Nalluri
2011 : The Shadow Line de Hugo Blick : Jonah Gabriel
2013 : Phil Spector (TV) by David Mamet : Mock Prosecutor
[youtube]http://www.youtube.com/watch?v=5wF4wU6HuUk[/youtube] [youtube]http://www.youtube.com/watch?v=Ru9iWYwJSa4[/youtube] [youtube]http://www.youtube.com/watch?v=eMd75bL6mB4[/youtube]
Articles similaires