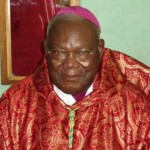 Togo and Christ community are in mourning. Since Wednesday, flags have been flying at half-mast in Lomé and all over the country. Togo is paying tribute to Mgr. Robert-Casimir Dosseh-Anyron, the first archbishop of the country died in the middle April at the age of 89 years old. A national ceremony is organized on Thursday at the celebration square in Lomé in memory of the illustrious person.
The President of the Republic of Togo and political personalities, religious authorities as well as accredited diplomats in Togo were all around the coffin of Mgr. Robert-Casimir Dosseh-Anyron on Thursday.
Africa Top Success proposes you below the biography of one of the fathers of Catholic Church of the African continent published by the official site of information of Togo.
Born on 13th October1925 in Vogan of Christian parents, Robert-Casimir Dosseh-Anyron made his primary school in Lomé and his secondary studies in Togoville at first and then in seminary school of Ouidah (Benin) where he obtained his high school diploma.
In a bibliographic note, the Archdiocese of Lomé specified that after the scholastic philosophy, Mgr. Joseph Strebler, archbishop of Lomé at that time, sends him to Rome in autumn 1948. On 21st December 1951, he was ordained and the next year, he obtained his Bachelor's degree in theology. During the next three years, he prepared a doctoral thesis on « The Eucharist in the works of Bossuet ». He brilliantly presented it on 12th January 1955 with summa cum laude distinction (excellent).
On his return to Lomé, he was appointed vicar at the parish Saint Jean Apôtre of Tsévié.
In 1960, Mgr. Strebler called him back to Lomé as director of Catholic education and a few months later, he became a vicar-general of archdiocese of Lomé.
On 4th April 1962, the Holy Chair publishes the appointment of four new African archbishops elected on 10th March 1962, among whom Father Robert-Casimir Dosseh-Anyron, vicar-general of the archdiocese of Lomé at that time. All over the country, it was a great joy. The first president of Togolese Republic, Sylvanus Olympio, was one of the first ones to have addressed him a message of congratulation.
Mgr. Dosseh's coronation took place on 10th June 1962 at St Augustin d' Amouvité parish by Cardinal Julius Döpfner, archbishop of Munich, main consécrator helped by Mgr Joseph Strebler and Mgr Bernardin Gantin, co-consécrators. He so became the first Togolese archbishop.
The next day, he was enthroned at the cathedral Sacré-Cœur of Lomé by Mgr. Maury, apostolic delegate.
Mgr. Robert-Casimir Dosseh-Anyron bravely served Catholic Church and the Nation: numerous ecclesial, social and cultural realizations are to be put to his credit.
After 30 years of episcopal service at the head of God's Family Church in Lomé, Mgr. Dosseh-Anyron became an emeritus archbishop of Lomé in 1992.
Original text by:
Roger ADZAFO
Articles similaires