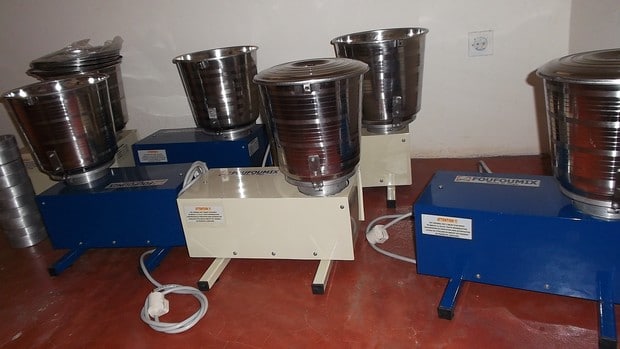 He makes the happiness of the African households. Foufoumix, invented by the Togolese electronics engineer, Logou Minsob, allows obtaining foufou (dough obtained of tubers) in 8 minutes. Before the creation of this small machine, tubers (yams, manioc…) were generally pounded by women in painful conditions and without hygiene. Foufoumix, the first of the inventions by Logou launched on the market, won the second prize at the edition 2014 of the Innovation for Africa Prize.
Henceforth, eating foufou will no more disturb neighbors with pestles noise. Women will no more get tired to prepare this meal very appreciated in west and central Africa thanks to Foufoumix. In spite of its relatively high price (between 250 000 and 350 000 FCFA), Foufoumix conquered the heart of households and restaurants of Africa.
Nevertheless, this promising invention could be at the purchasing power level of everybody if the inventor got support. Logou Minsob, the boss of the sole ownership Logou Concept Togo (LCT), evoked as handicap in the selling of his product, the low production capacity of his units, what explained the high price of the machines.
« Foufou has a particularity. It is not only sticky dough but foufou has a certain consistency, a viscosity that in order to have it, it is necessary to know how to pound foufou », explained Logou who proposed his solution to non-initiated: « The machine is very simple to use. You cook the yam as usual. Instead of putting it into a mortar, you put it in the machine. You start the machine and in two minutes your foufou is ready. »
Logou Minsob remembered his beginnings. « I conceived a machine which can mold yam. It was from there I joined a turner to concretize the idea. We managed to obtain a result which was not better but in the course of years, I reached this result which is perfect. »
Except for Foufoumix, Logou Minsob also invented a Climbing Platform (PG), a farming machine, a mobile WC with incineration and Mill.
Logou Minsob – Pounding machine, Foufoumix – (Togo)
Thierry N'doufou – Educational touchpad, Qelasy – (Ivory Coast)
Arthur Zang – Medical touchpad, Cardiopad – (Cameroon)
Afate Kodjo Gnikou – 3D printer – (Togo)
Original text by: Roger ADZAFO
Articles similaires