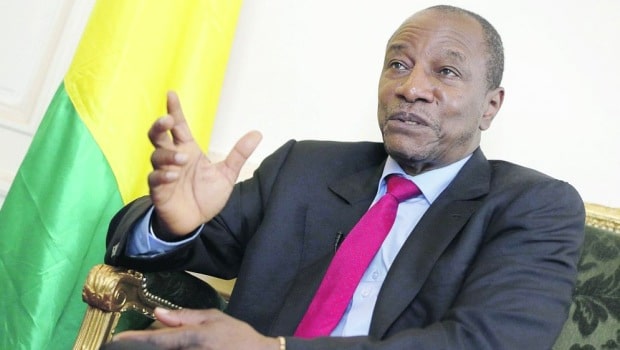 The Guinean president, Alpha Condé, participated on 21st November of this year in a debate dedicated to the impact of the Ebola epidemic on the economy of Guinea. This debate organized outside the 5th edition of the Global Entrepreneurship Summit (GES), was an appropriate moment to tell the truth on the epidemic.
« They treat the rich and leave the poor people« , supported the president of Guinea talking about the Ebola epidemic.
To start, the Guinean president considered useless today to look for any guilty person who made that Ebola puts in isolation three West African countries, namely Guinea, Sierra Leone and Liberia.
For Alpha Condé, the lack of the information about Ebola largely participated in the panic created around the epidemic. For the Guinean Head of State, « the World Health Organization did not well pass the information« .
In fact, the Guinean president remains confident as for the capacity of his country to overcome this temporary crisis caused by Ebola, mainly due to the help from the international community. In this way and according to the words of Alpha Condé, the American, French and Moroccan support is to be appreciated.
« We are very late« , admitted Alpha Condé. The latter did not hesitate to directly appeal to the investors to go and invest in the country while praising the potentialities Guinea offers.
Before the audience listening very carefully, President Alpha Condé protested, without indicating his interlocutor: « help us to fight against poverty instead of sending us weapons« .
Moreover, by inviting the investors to trust his country, he announced that President Hollande and the director of the World Bank, Jim Yong Kim, will travel to Conakry in course of the first week of December.
These are signs to incite the investors to take the example on these two great leaders.
In Conakry and according to the press office of the presidency, « François Hollande will make a work and friendship visit to Conakry … From the beginning of the Ebola crisis, France has been assisting Guinea in its retort against the epidemic. The visit of the French president is dedicated to the implementation of the actions planned to fight against Ebola virus in our country« .
By the way, the Guinean Head of State one more time expressed his gratitude to the King of Morocco, Mohammed VI, for the support and solidarity from Morocco towards Guinea, particularly during the Morocco-Guinea Economic Forum held last September in Casablanca, in the middle of the Ebola crisis epidemic.
Original text by: Les Afriques
Related Posts via Categories